Gloucestershire, Somerset & Devon Blog 2010
This blog is now complete
This is the illustrated blog of our September 2010 trip which includes gardens, hiking, steam railways and our experiences on what will be our longest camper van trip so far in our Toyota Hi Ace camper van conversion 'Aka chan' (baby or literally 'little red one' in Japanese) staying at Camping & Caravan Club sites at Winchcombe, Minehead and Lynton.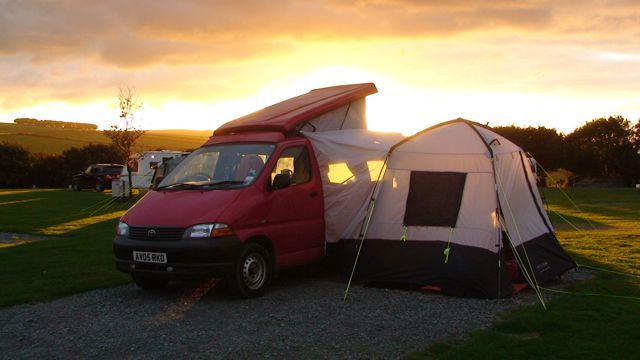 We welcome feedback. Please write to John or Stephanie
Day 1 Saturday 18th September 2010
To Statfold Barn in Staffordshire, near Tamworth by invitation. This is a truly amazing seed oil farm and processing centre, but far more than that as the owner - Graham Lee has a passion for narrow gauge steam trains and has rescued and restored many from Indonesia and South Africa in particular. The connection with John is that he had footage of one of the preserved Indonesian engines still working in Indonesia and Graham and his crew used the video to help sort out the loco's complicated valve gear! They have several friends' day throughout the year, but this was my first visit. It is such an amazing complex that no-one could fail to find something of interest. This open day there were also preserved traction engines in a field ambling about, and some vintage cars. The main line goes a mile or so out into the fields, so Maylee and I walked that a couple of times during the day. John knew a number of people, including three who had been on his Java tour earlier this year. The weather was good, and we really enjoyed the visit.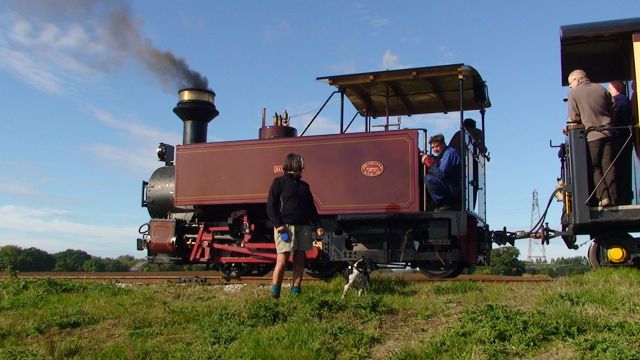 We drove on down to the first campsite of our holiday at Winchcombe in Gloucestershire. It is a Camping and Caravan Club site and of very high standard. We set up our awning for the first time - we are slowly learning about these things, and for us it is a major storage for boxes and crates. The weather stayed fine for all this operation, though there has been a shift to a more autumnal feel to the weather.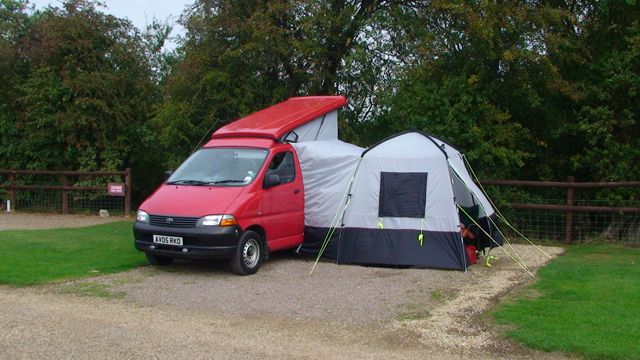 Day 2 Sunday 19th September
We gradually got ourselves sorted and detached from the awning to drive away to Coln St Aldwyns about an hour away where Paul and Liz have moved to from Gunby. There are many picturesque villages of Cotswold stone, and a lot of money available for restoration. We found Paul and Liz well and happy in their new life after four months. They have a lovely stone cottage and garden just on the edge of the estate where Paul is working. Paul, who had put his shorts on specially for our visit(!) showed us round Willowstrip, which had been the home of the Lord (St) Aldwyns. It is being restored by the Kennedys, and Paul is slowly taking over the garden side of things. It is an exciting project, and I already loved the areas he is working with. He is currently working alone, but down the line will be employing other specific gardeners - they even have a plan for a two acre walled kitchen garden.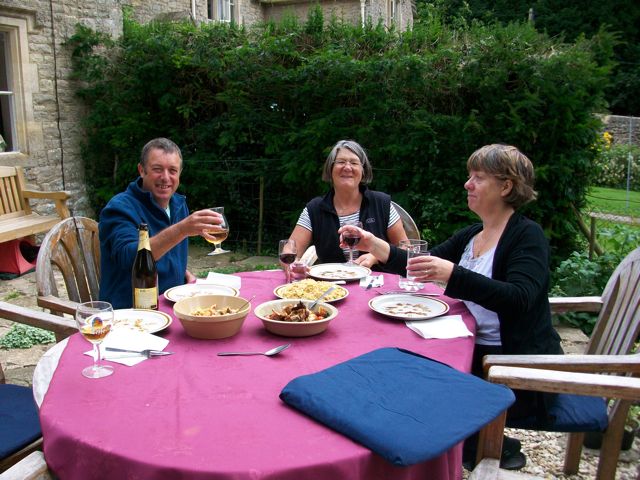 We had a lovely walk through Coln and along the river of the same name towards Bibury. We encountered a small Hash House Harriers group (North Wiltshire Hash), and lots of walkers and dogs - I'm sure there are many weekend homes in this picturesque area for rich Londoners. Back for a Chinese lunch ala Paul outside in the garden, and soon to be joined by mutual friends Doreen and Roy from Skegness with their cousins whose son of 40+ had got married yesterday.
On the way back we stopped in Bibury to look at the picturesque village which attracts many Chinese and Japanese visitors to see a very quaint English village, with some houses owned by the National Trust. The last stop was at Greet for the preserved Gloucester and Warwickshire railway's Winchcombe Station - we caught a look at the last train of the day pulled by a class 37 diesel with 9F Black Prince, formerly owned by the artist David Sheppard, on the rear.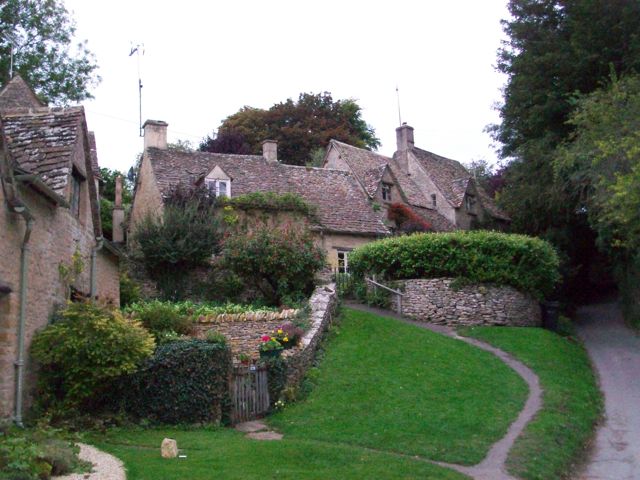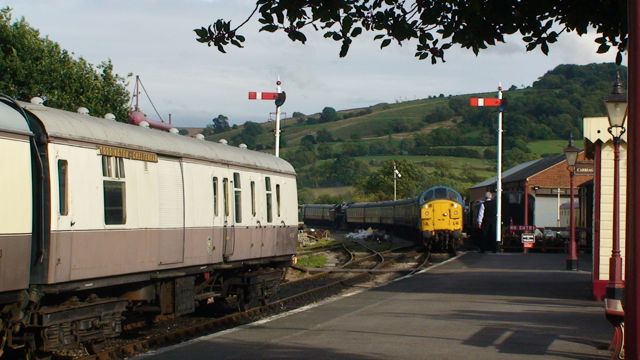 We hooked back into our awning for a more organised evening, and as I write this Maylee is snoring away.....
Monday 20th September
We had a brief walk locally for Maylee after we had packed and then we were off on our journey to Somerset down the M5. We stopped at a National Trust estate called Woodchester Park between Stroud and Dursley and did a great walk in a wooded valley along a waymarked trail, having our picnic lunch there before setting off for Minehead. We made one more stop at Williton not far from Minehead to see two steam trains crossing on the preserved steam West Somerset Railway line. In Minehead we negotiated the town to ascend to the upper level where the Camper and Caravan Club site is located. Because of the very steep access no caravans are allowed. What a spectacular place, right on the edge of Exmoor, with views across to Wales and back down the Somerset coast from high in the hills. There are just ten sites with electric hookup for campervans, and the rest is camping - tranquil and perfect for us. We explored the start of our walk on the South West Coastal Path for tomorrow, accessible from the back of the campsite. Our own courgettes were added to the pre-prepared spaghetti sauce and potatoes for dinner!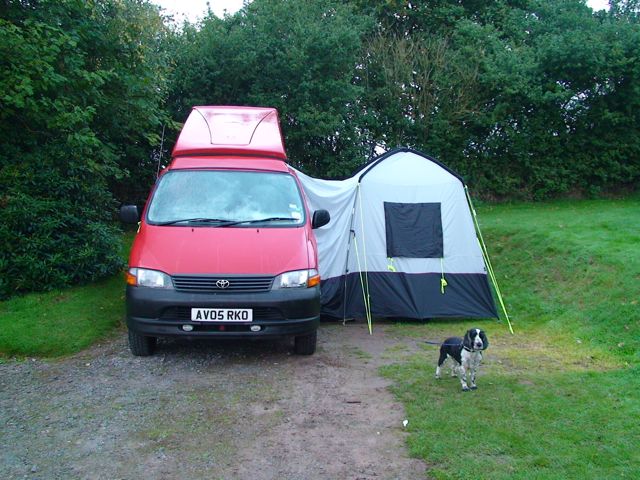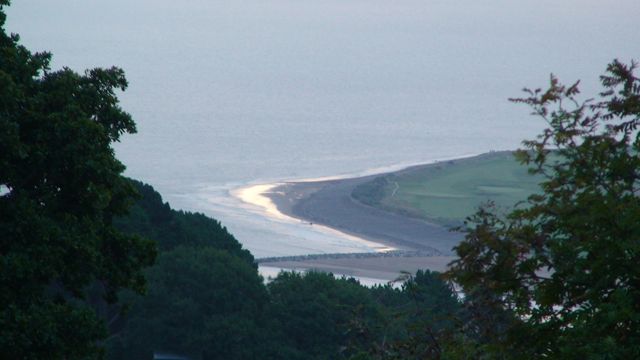 Tuesday 21 September
We had a wonderful 18 km walk from the campsite. We had seen a circular walk from Bossington which was not too far away on the South West Coastal Path, so decided to walk to join this from the campsite. Great choice and great weather for shorts and t-shirt. John opted for long trousers given the signs about ticks and Lymes disease. We went equipped for all weathers, and with our picnic lunches, but the sunshine and warmth proved fantastic all day, We soon encountered the Exmoor ponies (of course, Maylee ignores them), and walked across gorse and heather moorland for an hour or more with spectacular views of Wales over the water on one side, and Exmoor on the other.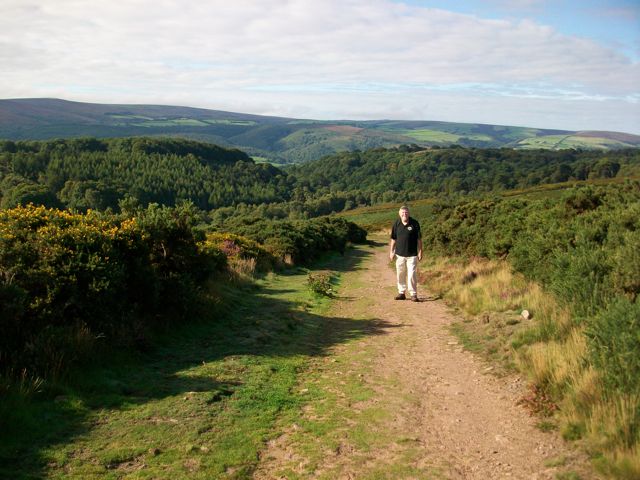 We joined the circular route at Selworthy Coombe, which was a woodland area descending by a brook. Maylee could be off the lead all the way which was brilliant. We arrived in the picturesque village of Selworthy, having come through the Holnicote Estate, which was given to the National Trust in 1944. The thatched houses (picture book variety), were purpose built by the Aclands who owned Holnicote in the early nineteenth century for their retired tenants and estate workers. It is stunningly beautiful.
We walked on through this to Allerford, another pretty village with a ford and old pack horse bridge - all linked by footpaths, and so on to Bossington. I did wonder what it would be like living for real in these places with many walkers and visitors.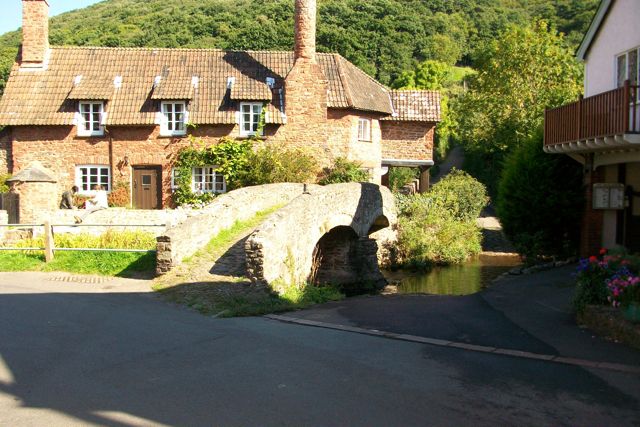 Maylee was fed in Bossington before we climbed up to Hurlstone Point for our lunch with a wonderful view over the shingle beach of Porlock Bay to the left and sandy beaches to the right - this is part of Bridgewater Bay, and in the distance was Wales with views over to Porthcall and Swansea. We climbed back up to Selworthy Beacon, and back to the route back to our Minehead campsite which we reached a couple of hours later. We met a few people and dog walkers on the way - everyone was very friendly - Maylee a star. She had rolled in so many nasties that she needed a bath on our return! We all bathed and dried off in the sun!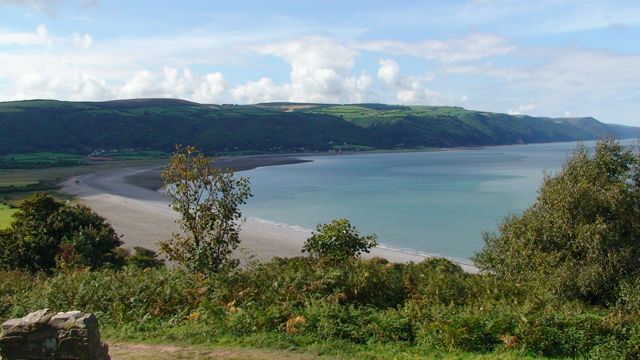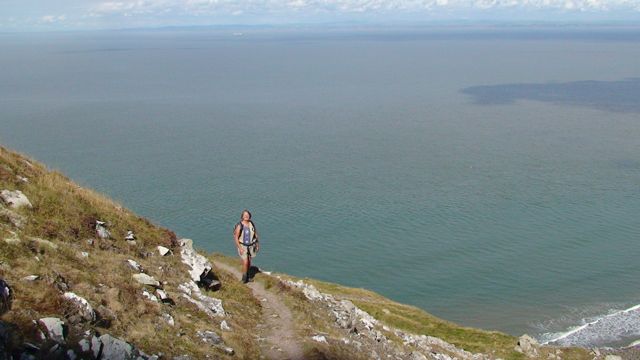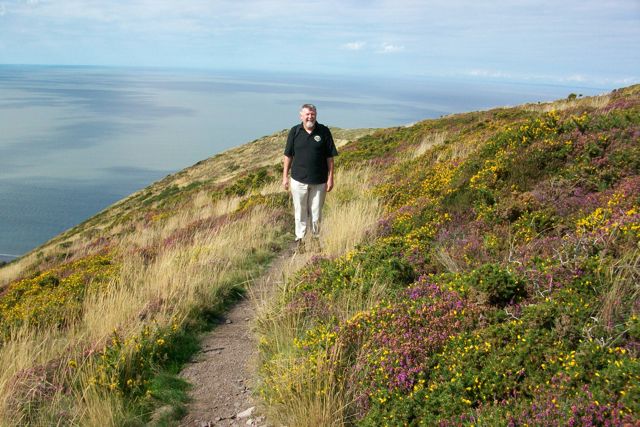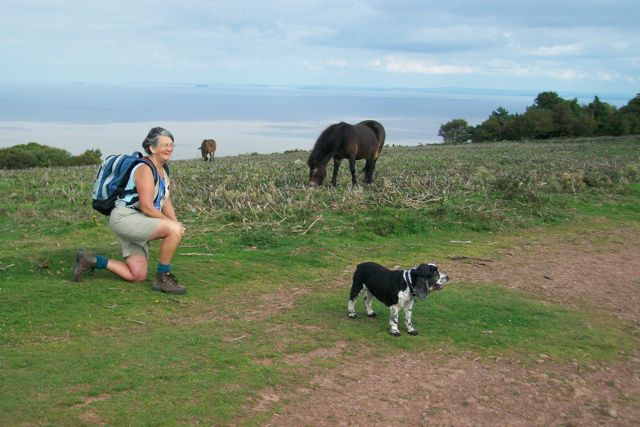 Wednesday 22nd September
A day of going our own ways, and therefore an adventure! I dropped John at the railway station in Minehead, and set off with Maylee, the campervan and most important the satnav for my own day out exploring NT properties, gardens and nurseries.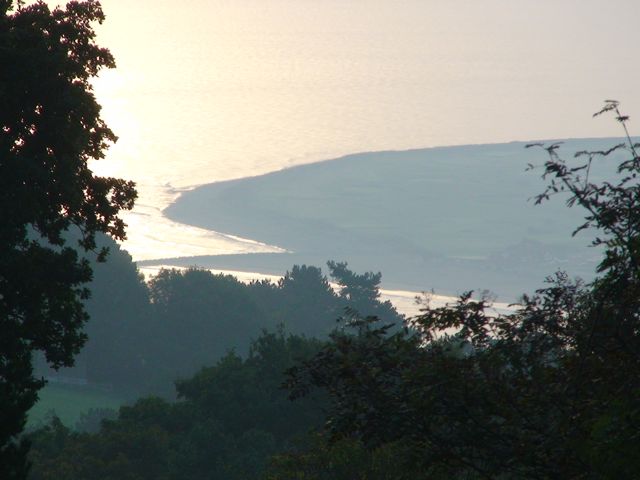 I started at Dunster Castle and the medieval village behind, and drove the scenic route to Tiverton. The major feature was high hedges, narrow roads and signs about pheasants crossing the road! Because of the timing, I did not have anyone behind me, and could take my time at 40mph to enjoy the winding road. It was about an hour to Cove where I had read there was a nursery, so hastily drew in to their car park. I actually did not buy anything, but was tempted by their Lupinis arboreaus.
On to Knighthayes Court, the National Trust Property in time for its opening at 11 am. The lacemaker from Loughbrough was forced by the Luddites to re-locate here and built an amazing house, but more importantly for me the gardens were fantastic. I started with the walled kitchen garden, and moved on to the ornamental areas at the front of the house. It was all very extensive, and well cared for with many volunteers in evidence. I had lunch in the restaurant supplied by the kitchen garden, and sat with a couple from Bath who had a static caravan at Blue Anchor near to Minehead. I fed Maylee and walked in the Woodland where she could be off the lead and have a good run - met some local dog walkers who advised the route.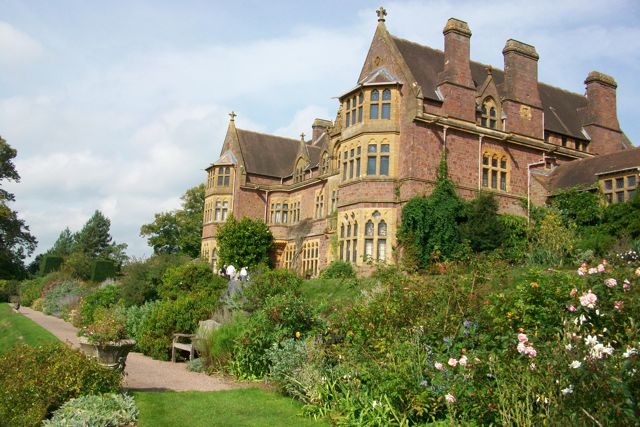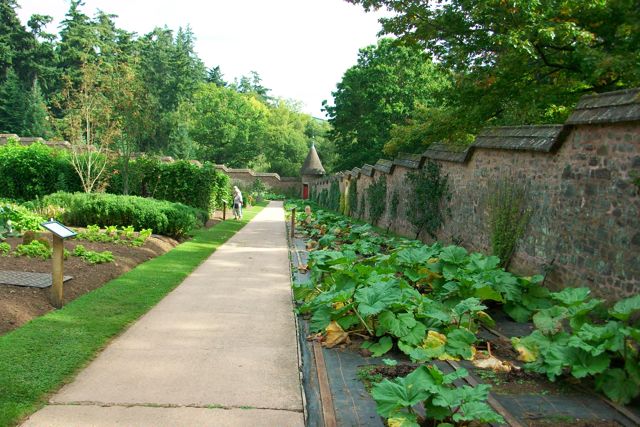 Set the satnav to Holbrook Gardens, an RHS recommended garden and nursery, and found one of those treasure troves. They hold the national collection of heleniums, but the garden was a wonder of wildness and control. I did make one or two purchases, and was advised to await planting until spring. Setting the sat nav for Minehead gave me an interesting and challenging route back through many a country lane and village - the moist picturesque being Ford! I got back around 4 pm, and managed to park the camper van, hook us up, raise the roof and prepare my evening meal, chopping our own vegetables of garlic, chili, onion, beans, carrots, potatoes and even aubergine to make a coconut curry.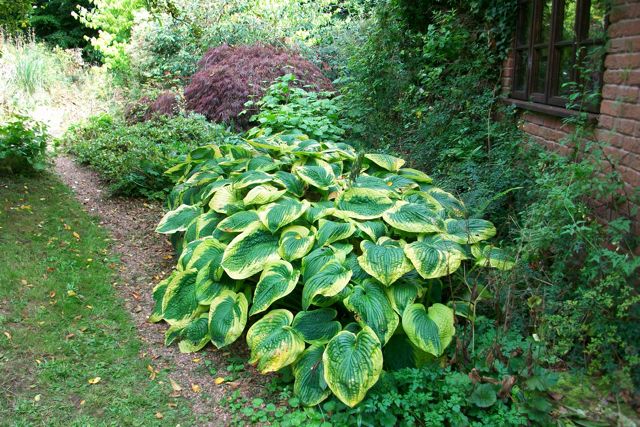 John arrived around 5:15 after a good day on the railway.
The West Somerset Railway is Britain's longest preserved railway at 19 miles (although there are two railways one narrow and one standard gauge which are about to top that). Its terminus at Minehead for the town and the Butlin's campsite has been very sympathetically redeveloped with a new parking area and cafe overlooking the new turntable. The town obviously likes having its railway back!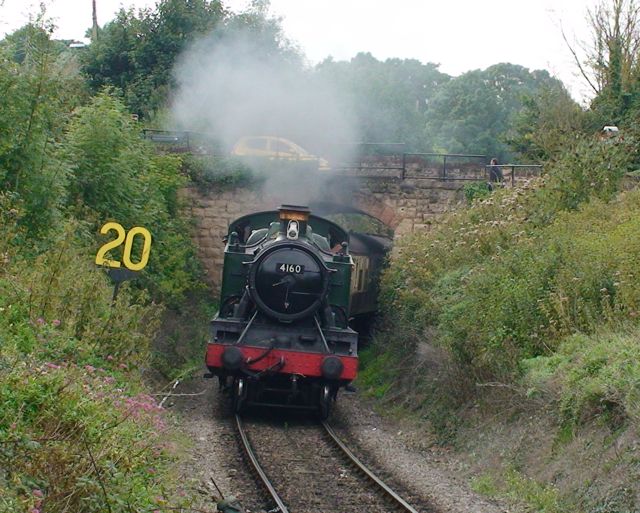 I rode the first train from Minehead to Bishops Lydeard hauled by a West Country class loco and then back to Watchet on a heritage DMU in order to enjoy the slog back up the bank to Crowcombe Heathfield again, this time behind a Western prairie tank. I then rode back to Minehead behind the tank with my head out the window on the climbs enjoy the chuff of the smallish loco on a decent train. The railway was well patronised and with 2 locos in steam along with the dmu was offering a decent daily service at the end of the main season. I like this line and will be back for more.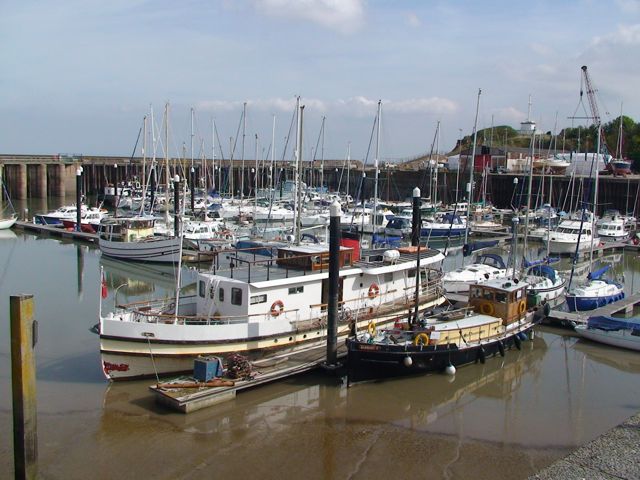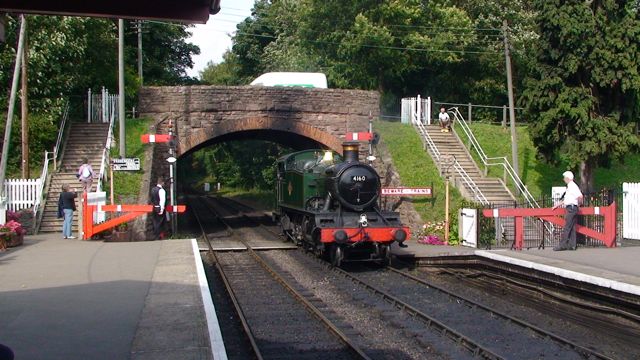 After getting off the train, I had to go to the local Wetherspoons for their free wi-fi as the camp wi-fi was defective. A pint of Exmoor Stag and a bit of emailing was then followed by a 30 minute slog up the hill to the campsite to end a good day out.
Thursday 23rd September
Wind and rain throughout the night meant a wet pack up, and careful planning of where everything should go in the campervan.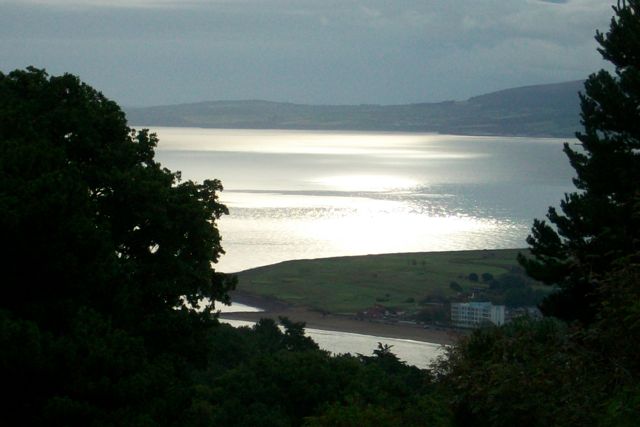 We were up and away by 9:30 am, giving Maylee a free run up on Exmoor before descending to Minehead Tescos to supplement supplies. The A39 to Porlock and Lynmouth is a spectacular route - not recommended for caravans, which we could see why when we were reversing on Porlock Hill to let someone pass! We enjoyed the route, and descended to Lynmouth only to drive inland along an impressive river valley towards Lynton. One is at the bottom of the hill, and the other at the top - they are so far away by road, but joined by the most amazing cliff railway operated on water.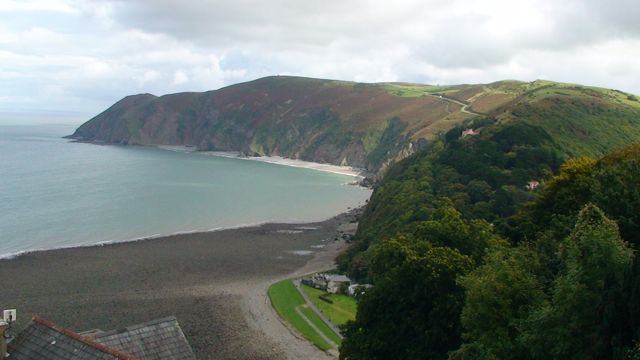 Our campsite was way above Lynton at Six Acre Cross, and we got there around lunch time. Impressed again by the friendly nature and good facilities. It is not too busy, and closes on Monday for the winter months. Wi-fi was available near the reception, so John wandered over to upload the blog. We set up the awning to dry out and ate lunch before setting off to explore and our first walk. This took in Lynton and the Valley if the Rocks, and was a five and a half mile circuit starting from the campsite. The coastline is rugged and spectacular, access is limited by the terrain. Most lanes are unsuitable for motor vehicles, so ideal for Maylee to be off the lead. Lynton is a Victorian town - fashionable for holidays from the late 19th century - the water-powered funicular cliff railway was completed in 1890, and there are many hotels from that era. Coal and lime as well as tourists crossed the Bristol Channel from Wales, and needed to be transported up the hill. We, of course, headed straight for this and rode it down and up to experience the way water is used - quite fascinating, and to this day very well used by locals and tourists alike. (I have to include many dogs too!)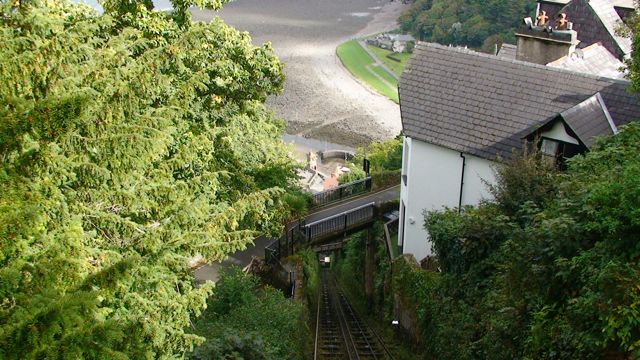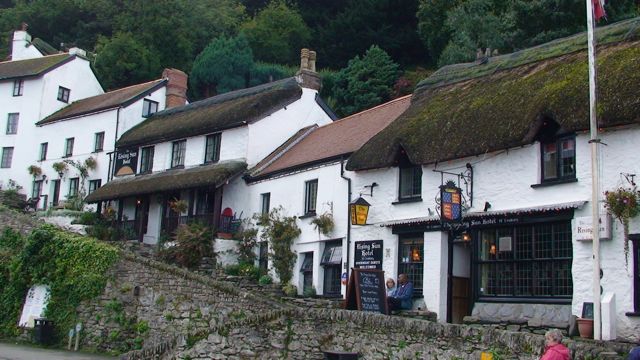 On ascent we set off on the footpath to the Valley of Rocks, and were soon out in spectacular coastal scenery, encountering herds of smelly goats as we headed towards Lee Abbey, which is an outdoor centre as well as Christian Retreat area.
We had a fascinating close encounter with a helicopter which appeared from behind Castle Rock. We can only imagine whether this was on exercise, testing equipment or pilot ability - we certainly got fantastic sightings.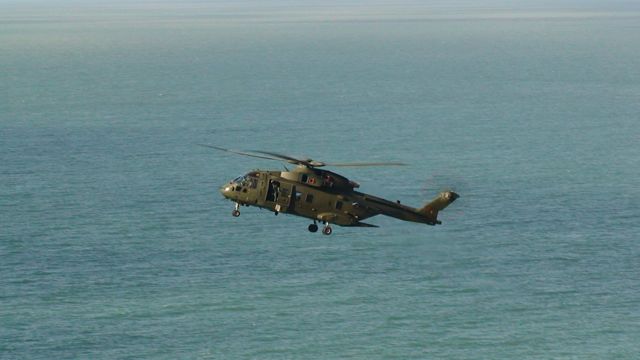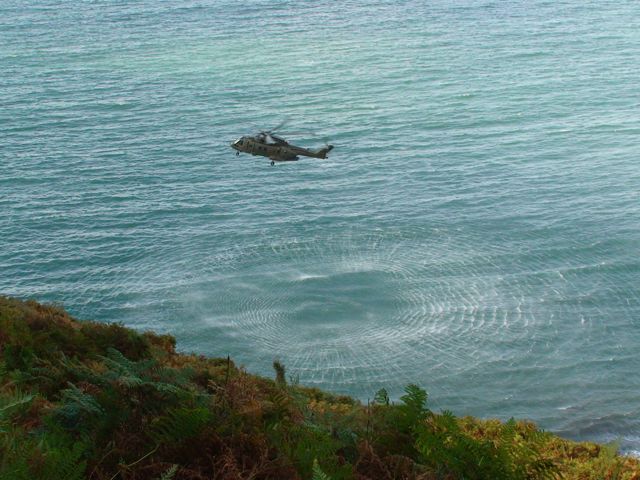 We all headed back up to our campsite for 5 pm, and got established before the rain showers set in again. We have been so lucky. Maylee has picked up a few ticks. The vet always assures me that they will drop off because I regularly treat her with Front Line, but none the less we are trying to get them off ourselves - they are of course between the eyes ........
Friday 24th September
We decided that we needed the van to get us to our hike today so we set off and had a preview of the very special occasion of the new-build loco Lyd (2010) visiting its spiritual home on the Lynton & Barnstaple Railway (closed 1935) at Woody Bay station. More on this tomorrow when I (John) will be riding and photographing the trains.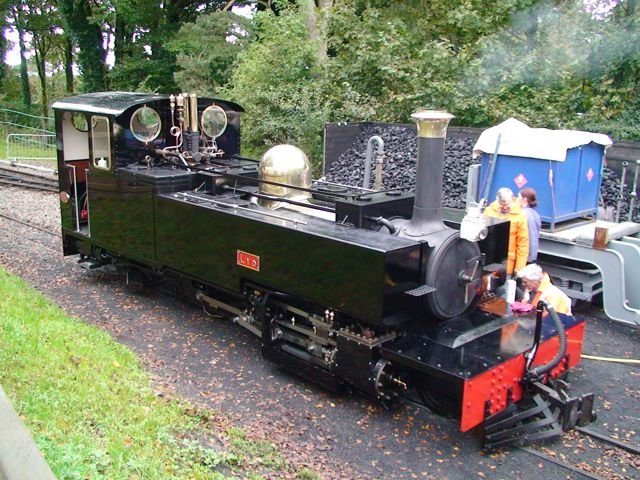 After this quick steam fix and a chat to one of the officials who is camping opposite us (it turns out), we went off to get our exercise for the day on a 4.5 mile hike from Hunter's Inn to Woody Bay and back. Stephanie drove down the single track road with sections as steep as 1 in 4 (25%) to Hunter's Inn.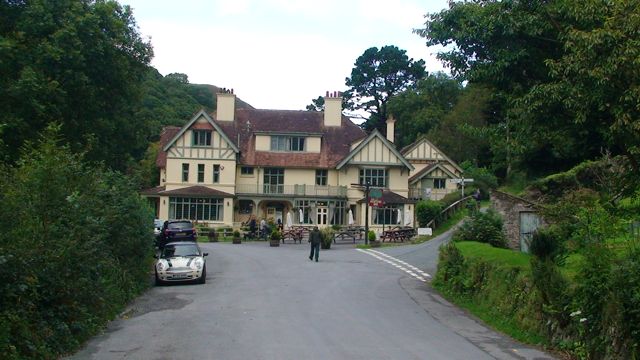 It stayed cloudy but dry and we felt the north wind as we headed out around the headland to Woody Bay on an old coach road between the two places. Looking across to Wales, we could see that they were enjoying the sunshine.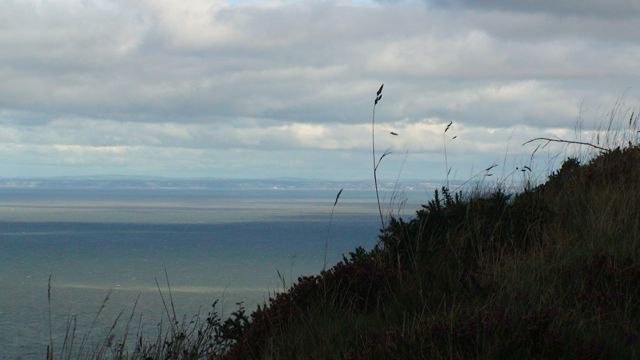 On our way to Woody Bay (the real Woody Bay not the distant station on the Lynton & Barnstaple Railway), we had spectacular cliff views looking east towards the area of our walk yesterday.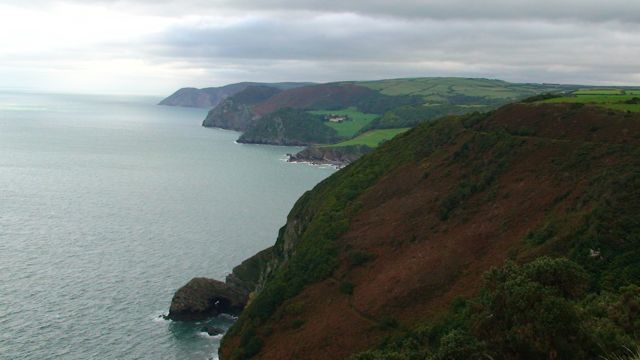 Maylee enjoyed rolling and stretching dangerously close to the edge!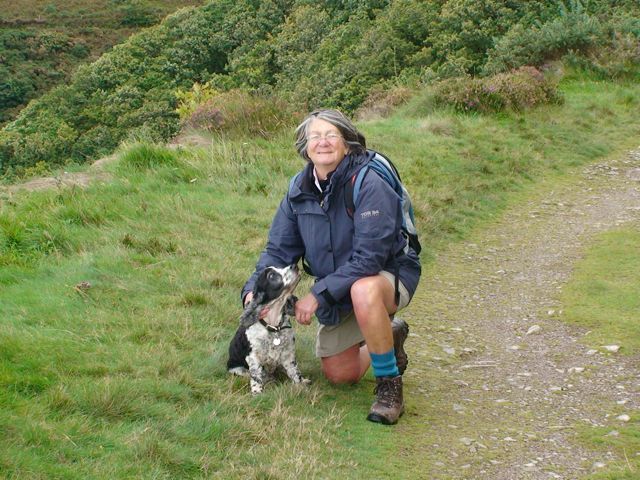 We returned to Hunters' Inn by narrow roads with steep hedges with lots of unpicked blackberries. After lunch in the van, we decided to head for Marwood Hill a garden which is free to RHS members on a Friday! Stephanie drove boldly and somewhat courageously back up the single track road to the main road breaking the nearside mirror on the van while in the process of avoiding a hiker! I'll let Stephanie tell the story of Marwood Hill.
This garden was a bit of a find, created by one of horticulture's gurus who died in 2002. It is maintained by his nephew, and was a wonderful garden and estate to explore, based in a valley with a series of lakes fed by a natural stream and there were many unusual and interesting trees and plants. We sampled the teas and donated to the Macmillan coffee day, and while Maylee and John explored the far bank of the valley, I spent time in the plant centre and bought just a few unusual specimens which I hope will survive at Marigold Cottage. Maylee was energized by the fish (carp and native English fish) in the ponds and managed to drag John down twice on the steep, muddy grass paths.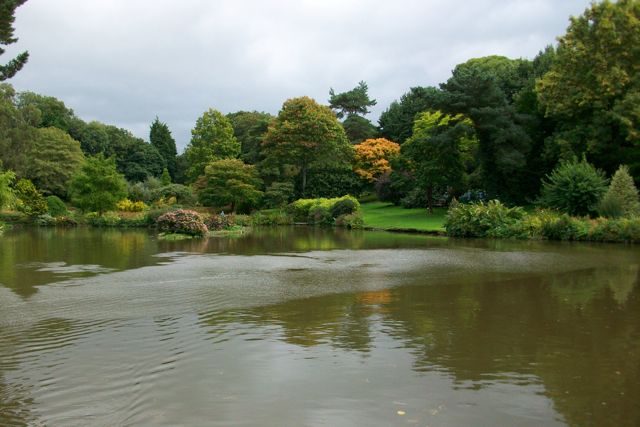 On our first walk around, John posed by some gunnera to show how small and sylph-like he is compared to what must be the biggest leaf you can grow in England.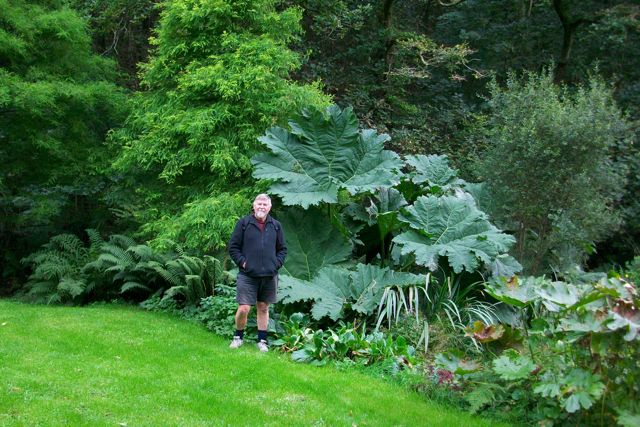 Saturday 25th September
For John, it was back to Woody Bay station for the Lynton & Barnstaple Railway gala. There was a good turnout to see L&B replica Lyd as well as 2 Ffestiniog coaches (one a former L&B coach) in action. The line is only 1 mile long at present but still has some reasonable views. The next phase is to extend for 9 miles and open a new station in Lynton. Long-term, they plan to re-open to Barnstaple.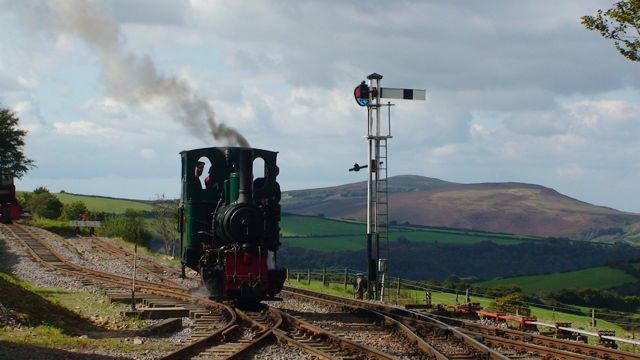 Sid, one of the resident locos was giving 'Driver for a Fiver' rides.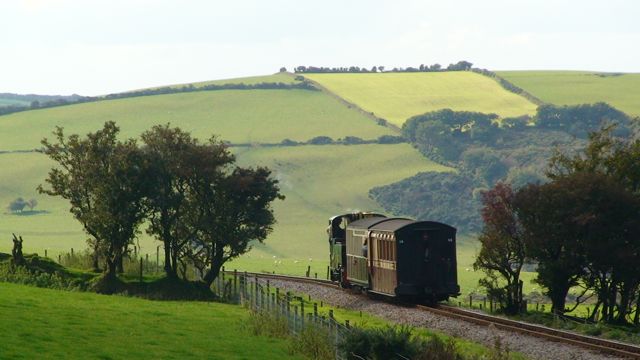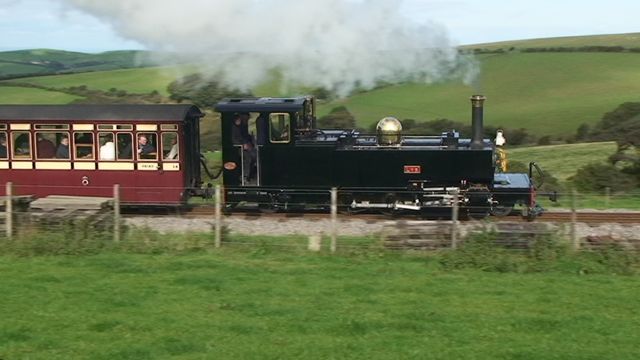 Parking on-site is limited so park & rides were in use. The one at Caffyn's Halt has its own L&B relic that should see trains running through it again when they re-open to Lynton.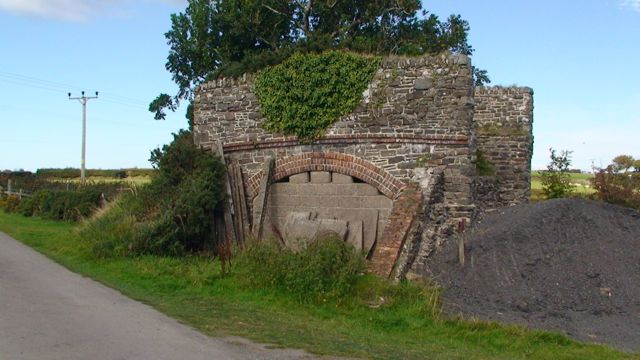 Stephanie also had a splendid day out. The weather was sunny - still in shorts, I drove the hour or so to RHS Rosemoor at Great Torrington, having dropped John off on the way. There was a wood for walking Maylee, and for parking in the shade, so even that made for comfort. Rosemoor was fantastic in every way, and so vast.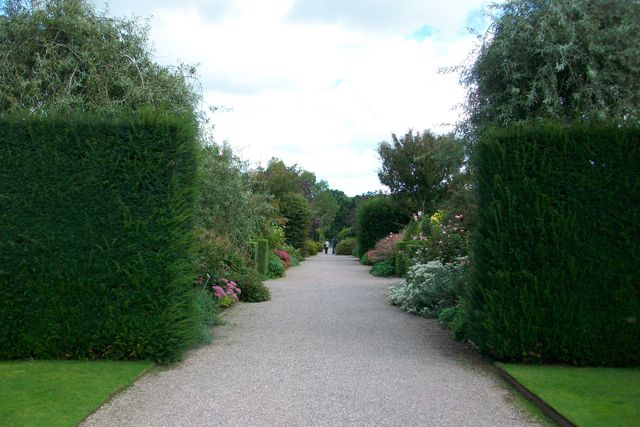 I spent around three hours there just wandering around trying to cover most areas, with a brief coffee stop only. I think I took in as much as I could for the first visit, and I was impressed. There was lots of interest, and everything being labeled makes such a difference. I chatted with a gardener for a while in one of the more tender sections, so was able to find out more about various names as well as why my Ricinus had not germinated this year (planted too early with no heat).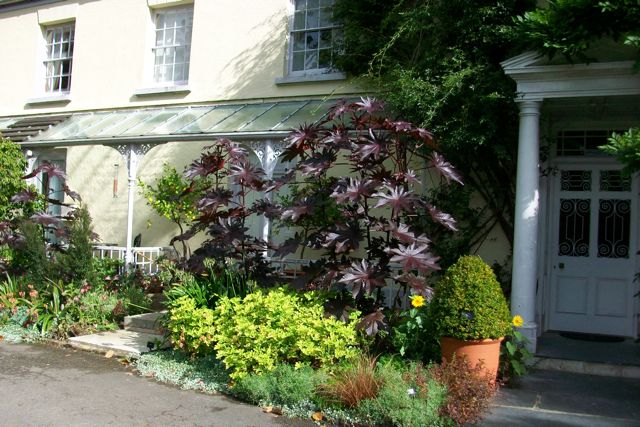 The solanum Clive has grown at Gunby this year is actually called Lycianthes rantonnetii - perhaps a change of name. With my camera I was able to capture some unusual plants with their names. There was lots of inspiration in the plantsmen's and foliage effect areas,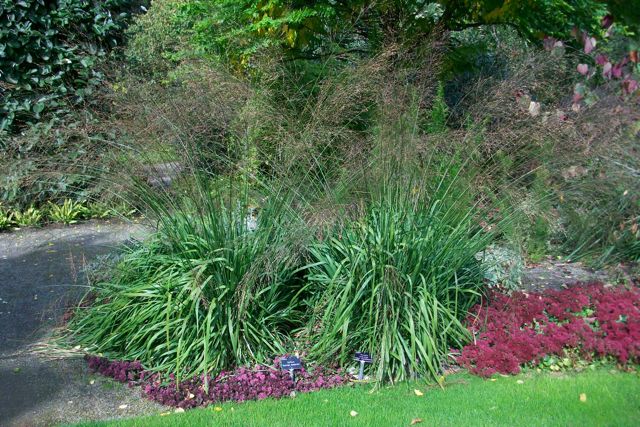 and I liked the height of their raised borders - came up to the top of my thighs.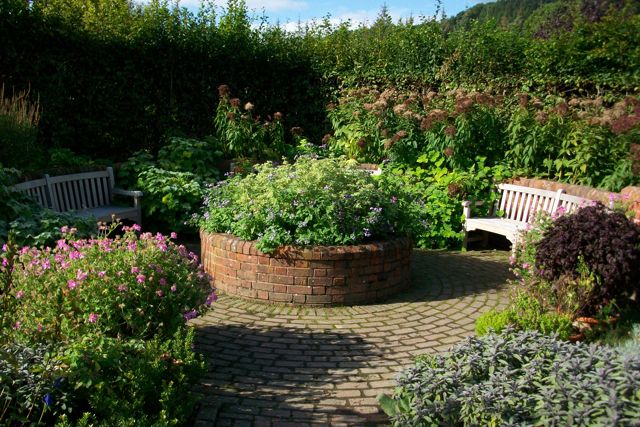 The garden was only donated to the RHS in 1988 by Lady Anne Berry, and I am impressed.
Lunch and walk for Maylee before I headed back through Barnstaple to Arlington Court, a National Trust property. I arrived at 2pm and first had a bowl of pumpkin soup in the tea garden, then fetched Maylee to explore the rest. This was a very dog and child friendly place with many walks. I was especially taken with tin men by Bob Waters sculptures all over the garden areas.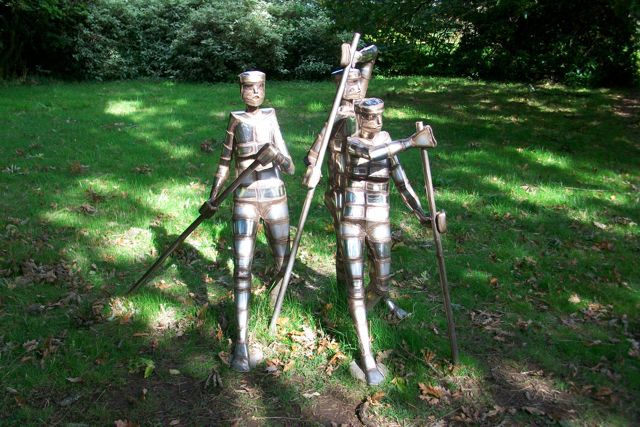 The walled and cottage garden were not especially interesting, but the wilder areas were great. The property is famous for its carriage collection, but nothing was running today, and I used it as a good walk location.
Back to the camp, I had just set everything up and hooked up when John arrived just as the kettle had boiled. The sun was so bright we could sit out for an hour before it became too cool. Shared our different but exciting days.
Sunday 26th September
Our final day. We were off by just after 9 and, by lunchtime, we were with Rob & Yuehong who have come over from Beijing to set up home in Mitcheldean in the Dean Forest. They were in the midst of unpacking but we enjoyed a local walk and a Sunday lunch before we set off back to Nottingham. This was around 2 hours which means that a return from Nottingham to Lynton could be achieved in about 4.5 hours if driving directly there. So, the holiday was over; our longest trip so far in Aka Chan and apart from a broken passenger side mirror, the van had come through the trip well. I wonder where and when we will go on our next trip?
John & Stephanie
September 2010